Appellate, Administrative and Trial Attorney
Attorney Erica Tatoian's practice is focused on appellate law, business and commercial litigation, complex litigation, regulatory (administrative) law, and tort claim defense.
Prior to joining the firm, Erica clerked at the Oregon Court of Appeals.
In her free time, Erica enjoys spending time with her family and enjoying the food scene in Portland.
How I Serve Clients
I believe that effective communication is critical for delivering timely and quality legal services.
When a dispute, administrative issue, or litigation threat arises, clients want to entrust their legal matter to an attorney who will immediately focus on their case and provide competent advice.  I understand that the need to consult an attorney often arises in times of stress.  With that, comes the sense of urgency to resolve the issue at hand.  My role, and that of our firm, is to immediately begin to assess a client's matter, answer client questions, and provide advice expeditiously.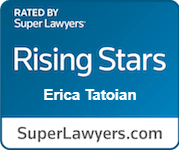 Bar Admissions
Oregon State Bar
Washington State Bar Association
United States District Court, District of Oregon
Ninth Circuit Court of Appeals
Professional Recognition
Received Best Lawyers: Ones to Watch™ recognition for Administrative / Regulatory Law, Appellate Practice and Commercial Litigation since 2021
Selected for inclusion in the 2022 Oregon Rising Stars for Civil Litigation: Defense
Professional Memberships
Member, Oregon Women Lawyers
Member, Multnomah Bar Association
Member, Multnomah Bar Association Equity, Diversity, & Inclusion Committee (2018-2021)
J.D., University of Oregon School of Law (2016)

Graduated top 15% of her class
Served as Notes & Comments Editor of the Journal of Environmental Law and Litigation
Completed an externship with Oregon Supreme Court Justice David Brewer
B.A., University of California, Santa Cruz (2013)

University Honors, cum laude
Dean's Honors
Publications
Co-Author: Oregon chapter in "Lobbying, PACs, and Campaign Finance – 50 State Handbook," published annually by the State Capital Group through Thomson Reuters/West (eds 2019-2022).
Co-author: Writs of Review and Proceedings in Quo Warranto (Chapter 43) in the Oregon's State Bar's Oregon Civil Pleading and Litigation (2020).
Co-Author: Oregon Civil Pleading & Practice – "Special Writs" (2019).
Animals in the Law: Occupying a Space Between Legal Personhood and Personal Property, 31 Journal of Environmental Law & Litigation, 147 (2015).
Presentations
"Best Practices for Public Records Compliance," Oregon School Law Conference (December 2022).
"Professionalism and Civility," The Willamette Valley American Inn of Court (Ethics CLE 2018).
Associate Board Member, Boys & Girls Club of Metropolitan Portland (2019 – 2020)
Associate Board Member, Boys & Girls Club of Salem, Marion, & Polk Counties (2017 – 2019)
Successfully defended jury verdict awarding $1.65 million in quantum meruit for services rendered over a twelve-year period.  Patton v. Cox, 313 Or App 262 (2021), rev den, 369 Or 209, recon den (2022).
Successfully defended trial court judgment rejecting HOA's attempt to prevent development on neighboring golf course property. Creekside Homeowners Ass'n v. Creekside Golf Course, LLC, 316 Or App 646 (2021).
Successfully appealed trial court and Court of Appeals decisions to Oregon Supreme Court, establishing law on corporate succession, contribution rights among insurers under the Oregon Environmental Cleanup Assistance Act and common law, and interpretation of liability insurance pollution exclusions. Allianz Global Risks v. ACE Property & Casualty Ins. Co., 367 Or 711 (2021). See article here.
Successfully defended trial court judgment denying anti-SLAPP motion to dismiss client's breach of fiduciary duty claims against homeowners' association and its board of directors. Tokarski v. Wildfang, 313 Or App 19 (2021).
At trial, successfully defended public university's application of faculty research exemption to public record disclosure requirements for vast majority of records requested by advocacy group (2020).
Successfully appealed Court of Appeals decision to Oregon Supreme Court, establishing law on the status of persons working for local government through a temp agency for purposes of public employee retirement benefits. Eugene Water and Electric Board v. Public Employees Retirement Board, 365 Or 59, 442 P3d 596 (2019).