Health Care, Insurance, and Legal Ethics Attorney
Arden Olson handles matters involving health law, ERISA, insurance law, legal ethics, and complex litigation (including ERISA litigation). His current engagements include helping insurers, coordinated care entities, and health providers with implementing new state and federal rules and regulations (including those promulgated under the Affordable Care Act), defending lawyers before the Oregon State Bar, and managing health care claims in federal and state courts.
Arden previously practiced privately in Seattle and in Philadelphia and with the Oregon Department of Justice (including serving as a charter member of its Special Litigation Unit and as General Counsel to SAIF Corporation), before joining the firm in 1992. He is currently General Counsel to a Coordinated Care Organization, and previously served as General Counsel to a regional health maintenance organization.
How I Serve Clients
As a litigator, I take pride in accomplishing our clients' goals in court, as efficiently as possible.  Working with clients whose businesses increase the "size of the pie" for our society as a whole, however, is what I find most fulfilling.  Not every legal problem is a "win-lose" contest, and a really good day is when we can find those elusive "win-win" situations.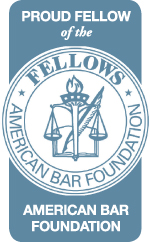 Bar Admissions
Oregon State Bar
California State bar
Washington State Bar
Supreme Court of the United States
U.S. Court of Appeals for the Third and Ninth Circuits
United States Tax Court
U.S. District Courts in Oregon, Washington, California, and Pennsylvania
Professional Recognition
AV Preeminent Peer Review Rated with Martindale-Hubbell®
Selected for inclusion in Oregon Super Lawyers® in 2006, 2009-2012, 2014-2019.
Memberships
Served in a variety of roles in the bars in state bar organizations
Fellow, American Bar Foundation
Member, Association of Professional Responsibility Lawyers ("APRL").

Current member of the Board of Directors of APRL, comprised of more than 450 lawyers, law professors and judges holding an interest in lawyers' professional responsibility, legal ethics, legal malpractice, and the evolving law of lawyering, primarily through the application of the rules of lawyer ethics to the practice of law.

Elected Member, American Law Institute
Member, American Health Lawyers Association
Member, the American and Federal Bar Associations and the Lane County Bar Association
Former Member, American Bar Association's Standing Committees on Professionalism and Ethics & Professional Responsibility
J.D., University of Washington School of Law (1978)

Order of the Coif
Executive Editor of the Washington Law Review
Recipient of the Vivian Carkeek Prize

B.A. (Philosophy), summa cum laude, Pacific Lutheran University in Tacoma
Completed the Executive Education for Corporate Counsel Program at Duke University Fuqua School of Business in Durham, North Carolina
Publications
"Is Some Behavior Ethical But Improper?" Oregon State Bar Bulletin, p. 29-33 (February/March 2013)
"Insurance Counsel Conflict of Interest", Oregon State Bar Bulletin, p. 36-41 (September/October 2008)
"Health Initiatives Would Breed Uncertainty," Oregon Health Law, p. 7 (October 1996)
"ABA Commission Proposes New Rules of Professional Conduct," Washington State Bar News, p. 43 (May 1980)
"American Bar Association Young Lawyers Division," The Lawyer's Conscience (July 30, 1980) co-author Christopher L. Otorowski
Comment "Parol Evidence in Washington: The Use of Extrinsic Evidence to Address the Integration and Interpretation of Writings," 52 Washington Law Review 923 (1977)
Presentations
"Solicitation to Withdrawal: Professionalism with Clients and Other Counsel," Oregon State Bar CLE (December 2015)
"Top Ten Reasons APRL Should Not Create a Specialty Certification Program," Association of Professional Responsibility Lawyers (August 1, 2015).
"The Ethics of Representing Your Firm's Members Against Your Firm's Client," IP Brown Bag CLE hosted by the Oregon State Bar (December, 2014).
"Best Practices for Giving Ethics Advice," 37th ABA National Conference on Professional Responsibility, Memphis, TN (June 4, 2011)
"'Confidential' Client Information: When are Secrets Not Secret?," ALI-ABA Live Telephone Seminar/Audio Webcast, Ethics and Professionalism Series (April 14, 2011)
"Ethical Traps for Tax Attorneys," Oregon State Bar Tax Section (November 17, 2010)
"Ethics Challenges for Business Lawyers," PLI 41st Annual Institute on Securities Regulation (November 6, 2009)
"Coverage Counsel: The Forgotten lawyer in Cumis," ABA Tort Trial & Insurance Practice Section 2007, ABA Annual Meeting (August 11, 2007)
Member of the Board of Directors for the Eugene Symphony