Gallatin Public Affairs Partner Greg Peden to Affiliate with Harrang Long Gary Rudnick as Of Counsel Attorney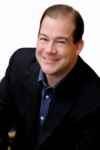 Relationship strengthens long-time collaboration between leading Northwest firms
The leaders of Gallatin Public Affairs and Harrang Long Gary Rudnick, P.C. (HLGR) are pleased to announce that Greg Peden will now serve as an Of Counsel attorney with HLGR in addition to his role at Gallatin. The two firms have coordinated service to a number of Pacific Northwest clients with a variety of complex legal and advocacy challenges.  Greg's addition to HLGR's roster will strengthen that relationship to benefit our clients.
Since 1990, at the often complex intersection of government, business, politics and the media, Gallatin Public Affairs has helped clients seize opportunities, overcome challenges and grow. As a partner for 11 years, Greg helps businesses and other entities successfully navigate government by combining his legal skills with a deep understanding of government, politics and the legislature. With expertise in the areas of natural resources, general business, energy, public safety and transportation policy, Greg is a regular presence inside the State Capitol and city halls.
"We are very pleased that Greg is bringing his expertise to Harrang Long," said Bob Steringer, President of HLGR. "Greg's affiliation with HLGR strengthens a long-standing relationship with Gallatin Public Affairs, which allows us to assemble a full suite of services for our clients that includes policy research, strategic communications and lobbying assistance, along with the legal guidance they need to push complex projects across the finish line."
Harrang Long Gary Rudnick P.C. ("HLGR") is a law firm founded in 1957 with offices in Portland, Eugene, and Salem, Oregon. The firm assists individuals, businesses, and organizations with legal advice, litigation, appeals, administrative proceedings, and government relations.  HLGR and its team of lawyers have been recognized for their work through rankings in Martindale Hubbell, U.S. News & World Report, Best Lawyers, SuperLawyers and others. Learn more at www.harrang.com.
Gallatin Public Affairs is a full service public affairs firm with offices in Oregon, Washington and Idaho. Throughout the Northwest, Gallatin senior-level consultants are skilled and experienced in crisis management and training, strategy development, research, targeted messaging, advertising, digital advocacy, public positioning and media relations.  See the Gallatin website at www.gallatinpa.com to learn more.
« Back to News & Insights