RAIN Celebrates its Official Launch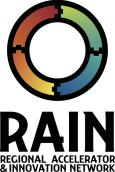 The Regional Accelerator and Innovation Network (RAIN) celebrated its official launch and the opening of their new Eugene home at the Eugene Chamber of Commerce building with a ceremonial signing of the Declaration of Cooperation by its partners. On May 28, 2014, Governor John Kitzhaber joined RAIN co-conveners, Eugene Mayor Kitty Piercy and Corvallis Mayor Julie Manning, along with representatives from both the University of Oregon and Oregon State University for this momentous occasion. RAIN's focus is to accelerate development of start-up businesses and job creation in the southern Willamette Valley. To learn more about RAIN, what they do, and how they can help, please visit www.raineugene.org.
Harrang Long Gary Rudnick P.C. serves as general counsel for RAIN. Vaden Francisco, Jr. and J. Lee Lashway are responsible for the coordination and delivery of the firm's services to RAIN.
« Back to News & Insights