HLGR's Joanne Austin Receives Big Brothers Big Sisters Recognition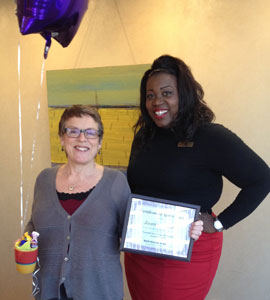 Chabre Vickers, Director of Community Relations & Diversity Programs at Big Brothers Big Sisters/Columbia Northwest surprised HLGR's Assistant Director of Administration on January 17, 2013, personally delivering a framed certificate of appreciation­–along with balloons and treats–for being an outstanding mentor (pictured left).
Approximately 2,500 adults volunteer to serve as Big Brothers or Big Sisters in the Columbia Northwest branch of the BB/BS program. Studies show that, by participating in the program, Little Brothers and Sisters are:
more confident in their schoolwork performance
able to get along better with their families
46% less likely to begin using illegal drugs
27% less likely to begin using alcohol
52% less likely to skip school
In the words of the program's community outreach director, the program chose "a tiny fraction" of those people for special recognition as outstanding mentors today. Joanne was one of those honored few. Congratulations Joanne! We are all moved by your volunteerism and dedication to others.
« Back to News & Insights