HLGR Helps Tribes Secure New Law Enforcement Powers
Aided by a team led by Jim Green and Pete Shepherd from Harrang Long Gary Rudnick, the police departments of federally-recognized Indian tribes in Oregon secured the power to contribute to public safety on equal terms with other professional law enforcement organizations. The victory capped years of effort and didn't come until the waning days of the recently-adjourned Legislative Session.
The Confederated Tribes of the Coos, Lower Umpqua, and Siuslaw Indians – a client of Harrang Long Gary Rudnick – celebrated the event by hosting the signing ceremony by which the bill became law. The Governor, Secretary of State, State Treasurer, and Co-Speaker of the House of Representatives joined with other officials for the event. The event appears to have been the first time in Oregon history in which a Governor signed a bill into law while in Indian Country. Click here for an account of the event.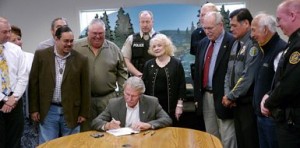 (Photo caption: On July 22, 2011, Chairman of the Tribal Council, Bob Garcia (left), State Senator, Joanne Verger, and Co-Speaker of the House Arnie Roblan (right) look on as Governor Kitzhaber signed Senate Bill 412C into law. The Confederated Tribes of the Coos, Lower Umpqua and Siuslaw Indians hosted the event.)
The bill, authorizes tribal officers to take law enforcement action under state law. Before that authority can be claimed, tribal governments and their police officers must meet the same rigorous training and regulations that apply to state and local law enforcement officers. Review the text of the enrolled bill.
« Back to News & Insights